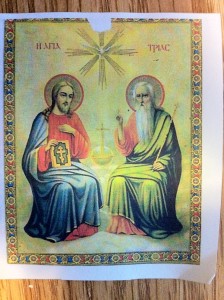 Bishop Yaroslaw and his wife Presbytera Oksana a TRUE HELPMATE!
The Christian Orthodox Cross.
http://orthodoxcommunityholyspiritcanada.ca/2013/08/15/hello-world/
NEWS!!! effective December 31-2017, Bishop Yaroslaw/Russ is retiring from ministry after 40 years. No he has not left the CHURCH. He will still be affiliated with the Mother Church, Ukrainian Orthodox Church World Wide Under Patriarch +Moses. His wife is going through some health issues and his moto is : JESUS CHRIST FIRST> HIS WIFE AND FAMILY SECOND< AND THIRDLY THE CHURCH. He will continue with the web-site on  a personal level.   The church web-site will continue.
EFFECTIVE AUGUST 15TH,2016 THIS WEBSITE Orthodoxcommunityholyspiritcanada.ca   WILL BE DISCONTINUED. It will now be called "www.wordsfromthebishop.com" this will redirect you to the main sight.  WE THANK YOU FOR VISITING US OVER THE PAST NUMBER OF YEARS.
WE REQUEST YOUR FEEDBACK OR OPINIONS. YOUR COMMENTS WILL INDEED HELP US IN OUR FUTURE POSTINGS OF INFORMATION THAT YOU MAY WANT.U
We are on face Book . facebook/wordsfromthebishopES

We are giving away several hundred Orthodox Church books, along with religious and inspiring devotionals.  All FREE plus shipping charges. A list will be posted on this page in groups of 20.  For all enquiries send message to the email below. ALL BOOKS TAKEN!
Visit our  www.oca-uaoc.org